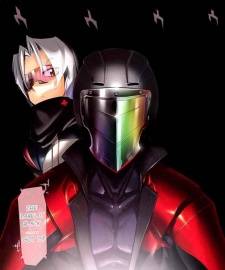 Triage X
is an ongoing manga series written and illustrated by
Shouji Sato
which began serialization in the May 2009 issue of Monthly Dragon Age.
Sato
hints on the cover flap of volume 1 that the reason
Triage X
was created was because of
Highschool of the Dead'
s prolonged hiatus, thus in terms of content and theme, the two are very comparable. Triage X has 11 Volumes and the 12th Volume will come in November in a Limited Edition.
The series is currently being published at a monthly schedule.
The Story Follows Arashi Mikami and his work as an assassin as he works together with other members of the vigilante group Black Label to wipe out organized crime in the fictional city of Tobioka. Black Label has two Teams: Ampoule One and Ampoule Zero Ampoule One: Arashi Mikami, Mikoto Kiba and Ohira Nashida / Ampoule Zero: Yuko Sagiri, Sayo Hitsugi and Miki Tsurugi
Triage X
250px


Japanese

トリアージX

Genre

Action, Ecchi, Splatter

Written and Illustrated by

Publisher

Fujimi Shobo

Magazine

"Monthly Dragon Age"

Demographic

Shonen, Mature, 16+

Original run

May 2009-ongoing

Volumes

11+
The series also shows sometimes segments of Arashi's school life, which often intertwines with his secret life in Black Label. The series is somewhat unusual in that rather than labeling each chapter with a simple number, the story is loosely separated into arcs which span multiple chapters each. (Case 1/2/3.....)
Ad blocker interference detected!
Wikia is a free-to-use site that makes money from advertising. We have a modified experience for viewers using ad blockers

Wikia is not accessible if you've made further modifications. Remove the custom ad blocker rule(s) and the page will load as expected.